lock

ooks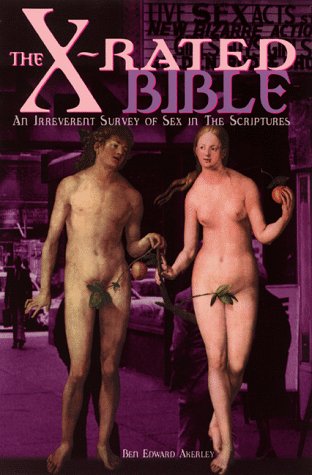 The X-Rated Bible
An Irreverent Survey of
Sex in the Scriptures
by Ben Edward Akerley
Author Ben Akerley builds a formidable case against pro-censorship fundamentalists by revealing multiple scenes of incest, rape, homosexuality, exhibitionism, child molestation, child sexual mutilation, bestiality, adultery, swinging, scatology and more that take place (both with and without punishment) in the very book the censors hold most sacred: the Bible.
The Holy Scriptures, a hotbed of sexual activity? You bet your bottom belief system. And Professor Akerley is here to show you where, citing chapter and verse.
One of the many odd hypocrisies of those that decry modern culture as obscene and hold up the Bible as the Word of God is that they rarely actually read the Book itself. Akerley, a recovering Christian, practicing atheist and retired USC Professor of Education, has obviously read it--both testaments--thoroughly.
The X-Rated Bible is, like the Bible itself, rather disjointed in its presentation and cries out for some aggressive editing. But there is a treasure trove of reference material here from Lot's incestuous sex with his daughters to Jehovah's anal fetish (on exhibitionist display when He reveals His Backside to Moses).
Some of the sex is very good, as in King Solomon's passionate "Song of Songs," some very bad, as when Amnon rapes his sister Tamar. But most Bible sex is complicated, like life.
Though Akerley makes a point of showing us some of the many, glaring inconsistencies regarding sex and other miracles that make it utterly irrational to say the Bible is "divinely written," he also reveals it to be a sexually fascinating piece of literature.
Of course, both testaments contain way too many rules against way too many kinds of sex. And the punishments tend to be beyond draconian. For instance, a woman who touches a man's genitals gets her hand cut off; and if a man is caught having sex with a sheep, both the man and the sheep are to be put to death.
But some of the stories, like the tale of Ruth, a young widow who boldly seduces her wealthy, older male cousin-in-law at the urging of her mother-in-law, are practical, erotic, insightful lessons in human sexual nature.
Perhaps the anti-sex religious zealots would learn something if they just sat down to read the Bible instead of thumping it so much. And Akerley's classic X-Rated Bible would serve as a great guide to the "good parts."
This most recent publication of The X-Rated Bible by Feral House is actually something of a resurrection. The book was first published in 1985 by Madalyn Murray O'Hair's American Atheist Press where it was the publisher's all-time best-seller.
--DrSuzyB