lock

ooks

"Magdalen", by Correggio


Welcome to my Book Shop. In these pages are a variety of books related to sexuality. Most are works that I have read and recommend personally, and some have been read and recommended by my friends or staff. There are even a few books here that I've written, and others in which I've written essays or short stories. Feel free to browse, and if you'd like to purchase a book, just click on the title and follow the instructions.

As the poet John Russell Lowell said, "Books are the bees which carry the quickening pollen from one to another mind." So get pollenated! Read a good book. A book can educate you, entertain you, arouse you, revolutionize you! Though the Internet is fun to surf and great for getting instant information, there's nothing like cuddling up with a good book when it comes to a truly meaningful, pleasurable reading experience.
Good reading,
Susan M. Block, Ph.D.


Susan M. Block, Ph.D.
PHOTO: GLENN CAMPBELL





Books By
Dr. Susan Block
The 10 Commandments Of Pleasure

Paperback Edition

Just $19.95

Published by Souvenir Press, Ltd.

To order the paperback, call us at (213) 749-1330 or

The 10 Commandments Of Pleasure
by Dr. Susan M. Block
SIGNED GOLD HARDCOVER EDITION
Limited Number Available!
$49.95 order by calling us at 213.749.1330 or

CLICK HERE
The power to give pleasure is the greatest power you have.
This is the book that gives you the power. The power to give pleasure, the power to heal, the power to attract, seduce and enjoy your prime-mate, the power to make lust last with the one you love.
With penetrating wisdom, humor, provocative advice and seductive sensuality, Dr. Susan Block's internationally acclaimed best-seller, The Ten Commandments Of Pleasure, shows you the way to a healthy yet naughty, thrilling yet relatively stable sexual life. Drawing upon her experience as a sex therapist, talk show host and horny housewife, Dr. Block lays down the laws of getting laid, as well as finding and maintaining love. Learn the Bonobo Way of Peace through Pleasure. Become an Ethical Hedonist. Share a heavenly passion right here on Earth. Become a Master Pleasure Giver. The power to give pleasure is the greatest power you have. Give this beautiful, classic, unforgettable book to your lover, your husband, a friend, your cousin, your hairdresser, your congressperson, or just savor it yourself.
A classic, irreverent, ultra-sensual and super-helpful book all about how to lead an erotic, healthy sexual life, giving and receiving pleasure, The Ten Commandments Of Pleasure is a Literary Guild Alternate Selection, a Doubleday Book Club Selection and a Doubleday Health Book Club Selection. Read the 10 Commandments of a Gentleman's and a Lady's Pleasure, and learn the Bonobo Way of Peace through Pleasure!
Produced by Harper Audio, an author-read and author-approved abridgment of my PLEASURE book
FREE SAMPLE OF AUDIO DOWNLOAD
Just Can't Wait?
Looking for instant gratification? Download and read it on your computer now!
Download A Copy For $3.95!
FREE SAMPLE OF AUDIO DOWNLOAD

An International Favorite.....





Published in seven Countries, Italy, Germany, Czech, Denmark, Brazil, S. Korea......




.....also published in England, Ireland, Australia, India & other "British Empire" countries*. Reserve a copy at your local bookstore, or get it here!



read more about
The 10 Commandments of Pleasure

(*-may no longer be available in Baghdad)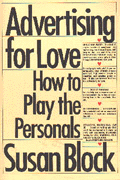 Advertising for Love
Susan Block (before I got the Ph.D.)

My first book, published by William Morrow in 1984, is still the best thing in print on the latter 20th century personal ad phenomenon, as well as the most helpful book on placing and answering romantic classifieds of all sorts.
$14.95 for signed copy. To order call 213.749.1330 or click the link below



Being A Woman
Dr. Toni Grant with Susan Block
(Toni wouldn't give me cover credit even though I slaved for two years with her on this book)

In Being A Woman: Fulfilling Your Femininity and Finding Love," Dr. Grant and I demonstrate how four Jungian archetypes (first identified by Jung's disciple and mistress Dr. Toni Wolfe) --the Amazon, the Mother, the Madonna and the Courtesan--operate within the female psyche, and how all four should be fully integrated over the course of a lifetime into a woman's personality.

Collector's Item: $100.00 for a signed copy of the original hardback book; includes shipping and handling; very limited inventory
You can also order by clicking here

Erotica Anthologies Featuring Dr. Susan Block
Pleasures: Women Write Erotica
Edited by Lonnie Barbach, Ph.D.
Erotic stories by women all based on real-life sexual experience. Featuring my first published erotic short story - "Women Who Love Men Who Love Horses."
Click Here To Purchase


Erotic Interludes: Tales Told By Women
Edited by Lonnie Barbach, Ph.D
More great erotica written by women, for women (though men love these stories too). Including my hot and steamy story "Leaving Sasha, or the Bed Makes the Man."
The Erotic Edge: Erotica for Couples
Edited by Lonnie Barbach, Ph.D.
Hot literary erotica by both men and women, with an emphasis on couples. Featuring sexy short stories sex life by both me ("Esther") & Max ("Susan").based on our real sex life.
Click Here To Purchase





BOOKS BY SUBJECT:

Sexuality And Culture
Erotica And Erotic Novels
Biographies And Erotic Memoirs
Relationship Skills
Sexual Evolution
Sexual History
Sex Wisdom: Sexuality Information, How To Guides
Sexuality And Politics
Sexuality And Religion

MISS ANY OF THESE GREAT SITES?
JOIN I FRONT PAGE 2 I SITE INDEX I WHAT'S NEW? I JOURNAL I RADIOSUZY1 I.THERAPYI Dr.Susan Block.com I Speakeasy Gallery I Travels With Max I Block Bonobo Foundation I Blockbooks I Sexuality Resource Library I Sex Toy Mega Store I
BlockFilms Video Store I Erotic Theater Of The Mind
NEW Speakeasy Bar & Grill I NEW Romantics Lounge
Couldn't find what you were looking for here?