BOOKS


TOO TIRED TO READ? Call us anytime at
(310) 474-5353


CALENDAR

Bonobo Foundation

Erotics Gallery


Travels With Max

Anna James

WAR IS TERRORISM

smARTLINKS
HOT PICKS




smARTLINKS
DR. SUZY'S REVIEWS
lock
ooks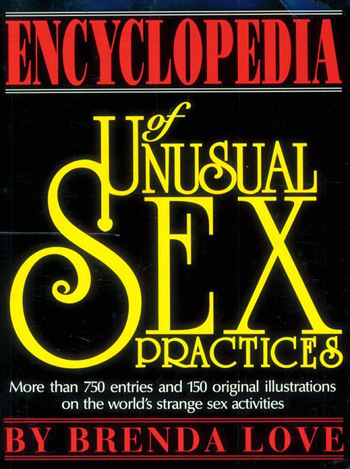 The Encyclopedia of Unusual Sex Practices
by Brenda Love
Need to get the exact definition of avisodomy (having sex with a bird) or pscyhrocism (being aroused by the cold)? Want an elaborate explanation of cunnilingus or fellatio, complete with technique, variations and historical anecdotes? Then get yourself a copy of Brenda Love's uniquely thorough Encyclopedia of Unusual Sex Practices. A must-have for any sexual know-it-all, and a convenient resource for the perpetually curious. Amaze your friends and family with your knowledge of bastinado (foot torture), polyiterophila (the need for a series of different consecutive sex partners in order to achieve orgasm) and hodophilia (sexual arousal from travel). This is a meticulously organized compendium consisting of more than 750 entries and 150 original illustrations of the world's kinkiest and most common sexual activities. I keep it on my desk or at my bedside at all times, referring to it whenever I need a precise definition or a good laugh.
---DrSuzyB

BOOKS BY SUBJECT:

Sexuality And Culture
Erotica And Erotic Novels
Biographies And Erotic Memoirs
Relationship Skills
Sexual Evolution
Sexual History
Sex Wisdom: Sexuality Information, How To Guides
Sexuality And Politics
Sexuality And Religion

MISS ANY OF THESE GREAT SITES?
JOIN I FRONT PAGE 2 I SITE INDEX I WHAT'S NEW? I JOURNAL I RADIOSUZY1 I.THERAPYI Dr.Susan Block.com I Speakeasy Gallery I Travels With Max I Block Bonobo Foundation I Blockbooks I Sexuality Resource Library I Sex Toy Mega Store I
BlockFilms Video Store I Erotic Theater Of The Mind
NEW Speakeasy Bar & Grill I NEW Romantics Lounge
Couldn't find what you were looking for here?
BOOKS


READING LIST
Books by
DR. SUSAN BLOCK




AUDIO VERSION

READING LIST
SEX PRACTICES