The
HOT GIRLS
Of Weimar Berlin
Barbara Ulrich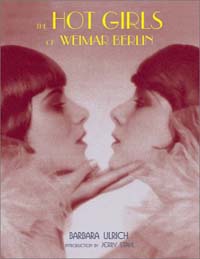 A review by
Dr. Susan Block
Click Here to See The Hot Girls of
WEIMAR LOVE: Hot Sex in Pre-Nazi Berlin
If you didn't get enough of those deliciously debauched, pre-Fuehrer fräuleins in Professor Mel Gordon's Voluptuous Panic: The Erotic World of Weimar Berlin (and who did?), never fear, the cure for your addiction is here: The HOT GIRLS of Weimar Berlin by Barbara Ulrich, also brought to you by those studiously twisted folks at Feral House Press.
If you've already read VP, Ulrich's offering is splendid--a sumptuous dessert to Gordon's full-course meal. Taken on its own, however, HOT GIRLS leaves the mind and soul hungry for historical and philosophical answers--or at least attempts at answers--to the questions that inevitably arise when gazing upon these elegant and extreme queens, princesses and poor little slavegirls of the "non-stop orgy that was Weimar Berlin" (from Jerry Stahl's introduction).

Carl Breuer Courth
The simple solution to that problem is to get both books. Read Voluptuous Panic first, taking in Gordon's insightful analysis of what this extraordinary time and place in erotic human history was all about. VP also has some marvelous Weimar era erotic artwork, but it will leave you wanting more... Then it's time to enjoy the tremendous beauty and style of HOT GIRLS. After all, if a girl is really hot, she needn't be brainy, at least not for a night of wild, aphrodisiac-drenched pleasures.
And these HOT GIRLS do sizzle. Ulrich has amassed a treasure trove of artwork from when the twenties truly roared in Berlin. Taken as a whole, I think Ulrich's selections are even sexier than Gordon's. Whereas Voluptuous Panic has no shortage of the lovely faces and lithe bodies of the denizens of Girl Kulture, it also includes darker, more distasteful, images, like creepy-looking guys jerking off on bicycles or collecting locks of hair from their lust-mord victims, and, of course, those horrible (the word "evil" is too overused these days) SS Men who soon burned the whole thing down, from sex books to cocktail nuts. Though the Nazi eventuality is alluded to, HOT GIRLS' images are almost all pretty ladies in various states of undress, masquerade and elegant decadence; what could be more scrumptious?

Milewski
The nastiest section of HOT GIRLS is on the active Weimar drug culture. Ulrich comes up with some intriguing factoids to accompany her provocative photos of needles penetrating soft thighs, like "the…female professions scientifically determined to be especially dependent on drug use were… artists… prostitution and espionage," though she doesn't develop these themes. Somewhat less controversial chapters focus on the "Fasching/Karneval" (Weimar's whirlwind party season), the elaborate Weimar fetish scene and Berlin's sophisticated lesbian culture.

Anonymous Hot Girl
Many of these pictures are being published in book form for the first time. Yet they all have a familiar look about them. Why? Even if you haven't seen Voluptuous Panic, you've probably seen a few Marlene Dietriche movies or old black and white photos from that chic, desperate, pansexual period between "the mustard gas waft of WWI and the imminent genocidal stench of WWII" (Stahl). Yet those images have always been sanitized for the general public. Now, thanks to Ulrich and Gordon, we can savor Marlene's sisters-in-sin in all their naked, roaring, screwing, sucking, spanking, strap-on dildo-sporting glory.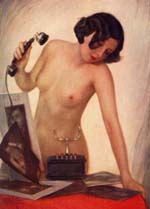 NEED TO TALK?
These books also serve to remind us of important similarities between Weimar times and our own, and we're not just talking about strap-on fashions. The burning of Germany's Parliament, The Reichstag, the most important government building in Berlin, occured toward the end of the Weimar Era when the Nazis "won" control of the government, even though they received a minority of the votes. The Reichstag fire was supposedly set by a "terrorist" (in this case, a Jew), though some say it was set by the Nazis themselves. In any case, it gave the newly unelected German leader, Adolf Hitler, the excuse he needed to seize absolute power from a depressed, terrorized nation.
Shades of how the 9.11 attacks on three of America's most important buildings have given America's questionably elected Bush Administration a "patriotic" excuse to wage an aggressive war with no direct relationship to the attacks, strip Americans of civil liberties, and throw foreigners and other "undesirables" in jail without due process.
Without directly bringing up these unsettling parallels, Ulrich has culled some illuminating quotes from personal accounts of the time that can't help but resonate within our own economically depressed, terror-stricken souls. Especially stirring are those from a sensuous lesbian memoirist named Hannah Tillich, whose observations frame the book and the era. Here's the first:
"In February, 1919, I went to a fancy-dress ball, along with many others attempting to escape hunger and misery and the restlessness following on a lost war…Everybody kissed as the lights went out. I stepped down the stairs filled with embracing couples, each oblivious to all the others. The one supreme moment of exultation had arrived. They did not think of past or future in the intense moment of the divine present. I stepped over twisted legs and lazily forgotten arms."
And the last:
"The book burning ceremony was headed by a young minister. My 'kissing cousin' who was still around, had asked us to watch from the window of one of the houses facing the famous old marketplace. The crowd was not big, but the cart filled with books was there, the fire was there, and the young minister was there, throwing books into the flames. Paulus turned away, cursing. I looked. I wanted never to forget it, steeling my heart forever against any benevolent feelings towards the 'Germans.'"
And here's a hot one from the middle:
"…One evening at dusk we sat without lights, Irma in a huddle of friends at my feet. I found myself touching a finger to her lips, against her teeth. With gentle strokes around the outline of her mouth, my finger slipped into the inside of her softly opening cave of love. People around us were talking of poetry; I chimed in, keeping my voice steady, while I pursued my double occupation."
Ulrich sprinkles quotes like these amongst her HOT GIRLS photos, drawings and paintings, giving you a sense of the era according to her feminine, circular approach to the material. If you desire a clearer, more linear, historical context for the Weimar Love explosion between 1919 and 1932, then you'll need Voluptuous Panic. But if you just want to explore the erotic spirit of Weimar and some of the most exquisite, sensational and often comical artwork of the period featuring fantastic females in all states of sensuous debauchery, treat yourself to HOT GIRLS.

Anonymous Warm Milk from a Hot Girl?
And don't forget to pay a visit to The Weimar Love Club here at the Dr. Susan Block Institute, inspired by Voluptuous Panic and Mel Gordon's unforgettable appearance on The Dr. Susan Block Show.