LIGHTS, CAMERA,
S E X !
by Christy Canyon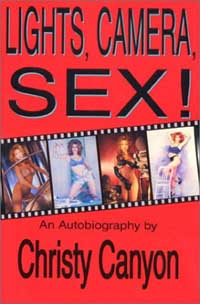 A Review by
Dr. Susan Block
The first porn movie set I ever visited was for a silly little film called "Sore Throat." It was shot in the mid-80s at the beautiful, sprawling Topanga Canyon home of my friends Lynn Redgrave and John Clark, while Lynn was out of town. The director was John's friend, the notorious "hedgehog" Ron Jeremy, and the star was future porn mega-director Paul Thomas, but the most intriguing person at the shoot was a lovely young lady named Christy Canyon.
With her lustrous, long dark hair, sweet Valley Girl manners, natural boobs and even more natural attitude, I remember thinking, "She doesn't look like a porn star!" Then, as I watched her enthusiastically engage in one explicit sex scene after another, I drastically revised my understanding of what a porn star looks like.
What I didn't realize was that this was, in fact, part of a "comeback" for this still rather young woman whose sultry good looks and unaffected style helped to launch the world of porn as we know it.
Several hundred sex scenes, a college education and a creative writing course (with the fabulous Jack Grapes) later, Christy Canyon has written the first part of an autobiography, Lights, Camera, SEX!, chronicling her life and times in and out of the American porn industry. It is quite well-written, very revealing, sometimes erotic, often funny and occasionally touching, a must-read for any Christy Canyon fan (and there are legions), and a fascinating glimpse into the world of American erotica, as well as the mind of a young, smart, alienated, world famous porn star. Lots of juicy behind-the-scenes stories of her adventures with porn luminaries Traci Lords, Ginger Lynn, Peter North and the ubiquitous Ron Jeremy, as well as mainstream celebs like Max Baer (Jethro on "The Beverly Hillbillies"), intercut with tales of suburban angst and an intense longing for love.
Christy comes across as just as likeable as I thought she was back in "Sore Throat" days, albeit a bit more complex. Occasionally, she seems rather spoiled, "blaming" her totally voluntary entry into porn on not getting enough attention from her self-involved but loving suburban folks, and griping about "filthy," "loser" homeless people panhandling for quarters in front of the supermarket. But who says porn stars are angels? This one is obviously a real human being, and a very talented one at that, capable of captivating one generation with her knockout body, and now, perhaps, another one with her engaging writing.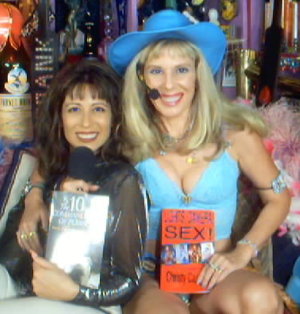 Christy Canyon on The Dr. Susan Block Show




Dr. Suzy feels up Christy Canyon