lock

ooks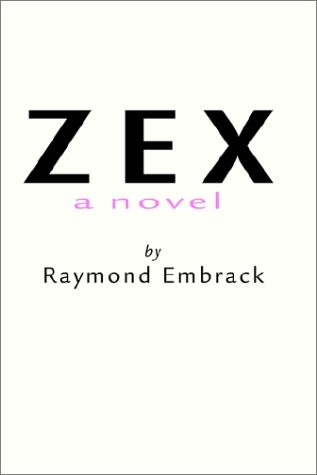 Z E X

a book review by Dr. Susan Block
Imagine a cross between a film auteur, an interior decorator and a dominatrix, and you've got the "Zex Designer," according to the sleekly kinky brave new world of ZEX, Raymond Embrack's erotic thriller mini-novel.
Zex Designers "design" your sex life, for a substantial fee, of course, dictating every detail from how often you have sex, to where, how and what you wear when you have it, to whom you have it with. The Zex Designer even gives you a script, which you are expected to stick to without deviation, though there's sometimes room for a little improv.
It's quite a concept. Close enough to modern-day sex therapists (comme moi? ah non, non, nonů) and lifestyle gurus to make a reader shiver. But a popular movement among trendy people to put themselves under the complete control of some pretentious megalomaniacal artistic pervert? Can you say Andy Warhol? Deepak Chopra? Rasputin? Dr. Phil?
ZEX follows the adventures of a couple of couples-one admittedly "shallow" and sweet (the Newports), the other "edgy" and dangerous (the Birkins)--who hire a Zex Designer, a Robert Goldtrapp. Goldtrapp attempts to turn the sex lives of the Newports and the Birkins into living, panting works of art. It begins with trendy, kinky fun and games. But before long, it descends into lascivious murder and mayhem.
Embrack's prose is coolly sensuous, sleek, stripped-down, minimalist, often funny, sometimes touching, always telling. His comic-satirical edge is sharp as a cat-o-nine-tails, and his descriptions of things erotic and otherwise are deliciously specific yet bracingly simple.
However, portraying sex as a gateway drug to violence is like saying smoking pot leads to shooting heroin. The device of making hot lovemaking devolve rapidly into murderous rampages is not only unoriginal (Hollywood does it all the time), t is depressingly moralistic (the notion that unconventional sex will either turn you into a murderer or get you murdered must have been hatched by St. Augustine). It is also utterly unrealistic: How many sexually adventurous couples actually become serial killers? Why can't all that orgasmic sex turn into something more interesting, inspiring and true-to-life than an erotically-charged murder spree?
Maybe I just need to open my own ZEX Design studio. Maybe I already have.

BOOKS BY SUBJECT:
Erotica And Erotic Novels
Sexual Evolution
Sexual History
Sexuality Information and How To Guides
Sexual Politics
Sexuality And Religion