The Da Vinci Code
by Dan Brown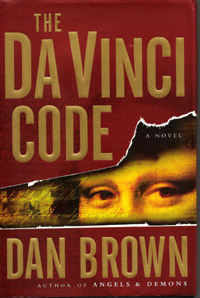 A Book Review by
Dr. Susan Block
I have to admit, I have a love-hate relationship with The Da Vinci Code.
I love it because it tells, in gripping, best-seller, page-turner fashion, the Greatest Story Ever Untold, the tale of Jesus as a sexual human being married to another sexual human being, the forgotten feminine counterpart, Mary Magdalene, the "vessel" of Jesus' human bloodline, the Holy Grail.
According to the legends, the Catholic Church has violently and almost completely repressed this "truth" for 20 centuries, because the Church's power was and is based upon the idea that Jesus Christ is divine, not a mere human with a wife and kids. Obviously, if it could be proven that Jesus was a mortal husband and father, as opposed to being God or the Son of God, Christianity could lose much of its religious appeal. Moreover, the Catholic emphasis on chastity for all, and its requirement of celibacy for its priests and nuns would seem gratuitously harsh. Moreover, the Church itself would no longer be Christ's sole representatives on Earth, since Jesus' literal blood descendents would have a legitimate claim to "His" legacy.
Despite the Church's powerful and often ferocious suppression, the tale of the marriage of Jesus (House of David) and Mary Magdalene (House of Benjamin) has been passed down over the past couple of millennia in artistic masterpieces (like Leonardo da Vinci's "The Last Supper") and the love songs of the troubadors, as well as written about in such great novels as Victor Hugo's "Hunchback of Notre Dame." More recently, the truth of the legend has been explored in such popular nonfiction works as "The Woman with the Alabaster Jar" and "Holy Blood, Holy Grail." But The Da Vinci Code is the first contemporary blockbuster novel to bring the ancient, feminist tale of Jesus' sexual humanity directly—without metaphor--to the bestseller-consuming masses, coming soon to a movie theater near you. And to that, I say: Hallelujah! Praise the Lord and the Lady! Amen and Awomen, This is why I love this book.
But I also hate it. Not because it's characters are superficial, it's "facts" often specious and its plot line preposterous. Hey, I'm from Hollywood; I'm used to all of that.
I don't even hate The Da Vinci Code because it has very little actual sex. Though I am rather annoyed with it for that reason. There's barely a kiss between the obviously-in-lust protagonists, Harvard Symbologist Robert Langdon and French Cryptologist Sophie Neveu. Then there's Sophie's unreasonably intolerant, almost puritanical attitude towards her wonderful, loving Grandpère Jacques Saunière, Chief Art Curator of the Louvre and Grand Master of the Priory of Sion. Just because she accidentally walked in on his private, mildly kinky group sex ritual when she was on spring break from grad school, she refused to even speak to him or open his letters for 10 years! I can understand how the sight of old Grandpère doing the nasty surrounded by chanting brethren and sistren could cause a young grad student to balk or even barf. But a decade of cold stone silence, despite his pleas for forgiveness and offers to explain? I'm supposed to sympathize with this uptight, unforgiving little snot in her high-speed pursuit of the Truth? Well, okay, I did. Even though she hadn't forgiven her poor Granddad (until after he was dead), I forgave Sophie, because I wanted to go on the journey with her. Sophie could have been savvier, and Langdon could have been sexier. But indeed, these are mere quibbles, and I don't hate The Da Vinci Code because of them.
I hate it because, in the end, it let me down. WARNING: Don't go any farther if you haven't yet read this book and if you don't want me to spoil it for you (it is worth a read, even if you wind up half-hating it like me, if only because everybody else is talking about it).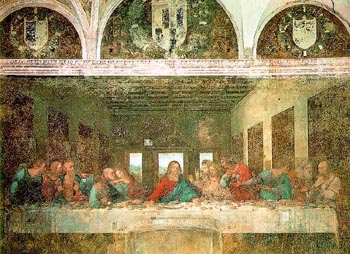 The Last Supper .... . .. Leonardo da Vinci ... .... M is for Magdalene...

So, here's why I hate it: In addition to being a pop primer on the Holy Grail, The Da Vinci Code is a modern murder mystery. And as we solve that mystery, in the last 50 or so pages of the book, Grail buffs like me can't help but feel slapped in the face. Slapped, in fact, by the cold, paternal hand of the Catholic Church itself. That is, the character who is the most passionate Grail historian turns out to be the evil rotten villain of the whole book. The Church, which Brown implicates from the beginning until those last critical 50 pages, is ultimately let off the hook. Brown's ending suggests that nobody truly murderous comes directly out of the Church (at least not nowadays), only a few misguided, well-meaning fools.
The actual poor shmuck of a monk who pulls the trigger, Silas, gets off with the "abuse excuse." That is, he was beaten as a child, so what do you expect? Bishop Aringarosa, head of the masochistic Catholic sect Opus Dei, is at first portrayed as a power-hungry hierophant, willing and eager to enable his man Silas to do whatever it takes, even to the point of committing vicious, multiple murders, to get hold of that heathen Holy Grail. But the Bishop turns out to be just a sweet lovable old Man o' God who didn't know nothing about no murders. He even gets his 20 million Vatican dollars back from the kindly (and devout) police chief, which he then magnanimously donates to the victims' families.
So, who's the really bad guy of The Da Vinci Code ? Who's the brains behind all the ghastly murders? Why, the only really likeable character in the book (aside from Grandpère Saunière who gets offed in the first few pages): the eccentric, jovial, filthy-rich, polio-disabled, goddess-loving scholar Sir Leigh Teabing. Teabing is the person who is portrayed as most deeply honoring the feminine principle of life. While Langdon is a ridiculously cardboard Harvard hero, "Harrison Ford in Harris tweed," and Sophie Neveu is a cute but prudish code-cruncher, Teabing is a man of passion, a British bon vivant, wise enough to figure out Saunière's first secret code "SOFIA" (wisdom). He wants nothing more than to share the Grail of Christ's humanity with the world, to pull the oppressive veil from the misogynist charade that the Church has perpetrated upon the world for two thousand years. In fact, Brown makes this desire to reveal the "truth" Teabing's motive for orchestrating the murders of five people, all of whom take this "truth" to their graves! Not only is this ludicrous and rife with contradictions as a murder motive, it's also rather insulting to real Grail lovers who come to this book hoping for a bit of respect.
We are lulled, at first, into following Brown's videogame-paced thriller, crescendoing mid-novel, with Teabing's revelation to Sophie (who Grail lovers, by this point, have figured out is a direct descendent of Jesus and Mary Magdalene) that the Grail is the Magdalene. Then the plot unfolds, suggesting that all that provocative but really rather sensible stuff that comes out of Teabing's mouth has got to be twisted because, hey, the dude's a multiple murderer!
Then, there's Brown's kicker: the last sequence of the code spells "APPLE." a word suggesting not the glory of the Grail, but the downfall of Eve. Indeed, it seems to spell out the doomed folly of those, like the cursed villain Teabing, who seek to eat of the Tree of Knowledge or find the Holy Grail. I know: "Vous ne trouvez pas le Saint-Graal. C'est le Saint-Graal qui vous trouve." You do not find the Grail; the Grail finds you. So does that mean you shouldn't seek the truth?
It's almost like Brown is working for the Church in this book. Yes, he does expose the Vatican for being a two thousand- year-old force of repression, right down to suppressing the truth about its own God. But in terms of the murder plot of The Da Vinci Code, the Church gets off scot-free.
So, in the end, Langdon solves his puzzle, Sophie finds her family, Silas dies piously, Aringarosa goes home, and Teabing goes to jail, crying for the Grail. Ultimately, it's a Church-positive, family values, handicap-unfriendly message, pitting two intellectuals against each other: the dry, good-looking bore versus the passionate, disabled pagan, and the bore wins.
The Da Vinci Code is a decent introduction to the explosive mysteries of the Magdalene, and not a bad blockbuster yarn. But we Grail-lovers must continue our search for a very different, truly Great American Novel.

© August 30, 2004, Dr. Susan Block
For reprint rights, please contact rox@blockbooks.com

Dr. Susan Block is a sex educator, cultural commentator, host of The Dr. Susan Block Show and author of The 10 Commandments of Pleasure. Visit her website at http://www.drsusanblock.com
Send all hate mail, love letters, commentary, questions and confessions to her at liberties@blockbooks.com.